Our real estate crowdfunding approach
Proximity, diligence and transparency
Our view

Proximity and customized support
Véritable partenaire aux cotés des investisseurs et des porteurs de projets, notre volonté est d'apporter un support opérationnel aux opérateurs immobiliers tout en garantissant une analyse pointue des projets immobiliers aux investisseurs.
Nous accompagnons ainsi les professionels de l'immobilier tout au long de leurs opérations et nous offrons un suivi régulier aux investisseurs.

Mechanism
Les investisseurs participent collectivement au financement d'un projet immobilier aux cotés des promoteurs. En contrepartie, ils bénéficient d'un rendement cible compris entre 8% et 15%.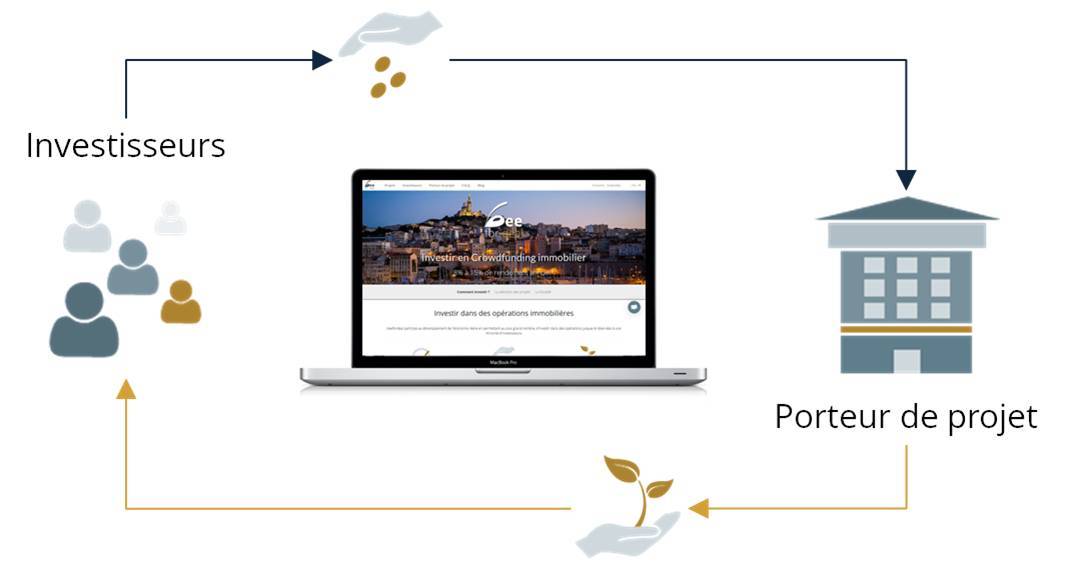 Rejoignez la communauté
Our method of project evaluation
Each project on the platform has been rigorously analysed.
We audit the financial capacity and background of the property developer as well as all of each project's elements. The engagement committee evaluates each project and recommends the operation investment return before it is added to the platform.

Ability
To be selected a developer must demonstrate its skill and previous experience.

Financial capacity
The financial capacity allows us to assess the strength of the developer over time.

Detailed audit of the operation
The operation must have all the necessary advantages for its successful conclusion
Our funding model

La maturité des projets
Conformément aux garanties énnoncées aux investisseurs, beefordeal finance des opérations dont le niveau de maturité est déjà avancé.(permis de construire, garanties techniques et financières, crédit d'accompagnement sous condition, niveau de pré-commercialisation)
Dans le cadre d'un financement, les étapes du montage de l'opération doivent etre abouties.

Dans le cadre d'un refinancement, la construction doit être avancée.
Le niveau de maturité du projet est un des éléments qui influe sur le taux de rémunération proposé aux investisseurs.

Our fixed bond investment model
Investors are grouped into an investment holding (SAS) created specifically for the project.
In the event of refinancing, the invested amount is transferred into the promotion company (head office) into bonds issued.
In the event of financing necessary to the launch of an operation, the invested amount will be transferred into the project company into bonds issued.
In both cases, Investors subscribe to a bond issued by the investment holding who itself subscribe to a bond issued, either by the promotion head office, or by the project company.
The developer refunds the investors (capital plus interest) when the project is completed, assuming the project is completed according to the terms established at the beginning of the operation.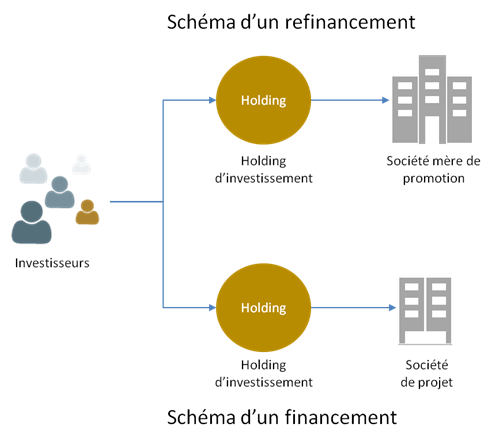 to go further ahead

Whant to invest ?
Join the community ant find out operations financing
Join the community

Whant to raise fund ?
Submit your project
Submit